Easter Life-Time Membership Special: Until April 30th, Save 35% Off
Nial Fuller's Professional Forex Trading Course, Daily Trade Setups Newsletter & Live Trading Forum - 
Click Here.
Note: We Use 'New York Close Charts' – Get Our Preferred Charts & Trading Platform Here
AUDUSD – Aussie/dollar selling opportunity remains
In our last AUDUSD commentary, we talked about looking to sell this pair on any strength, whilst price was contained under 0.7611. Notice in the chart below, price did rotate higher after our commentary, before selling off again today. Due to the continued weakness in this market, as we can see in the chart below, we remain short-biased under 0.7611 overhead containment and will look to sell on any near-term upward movement.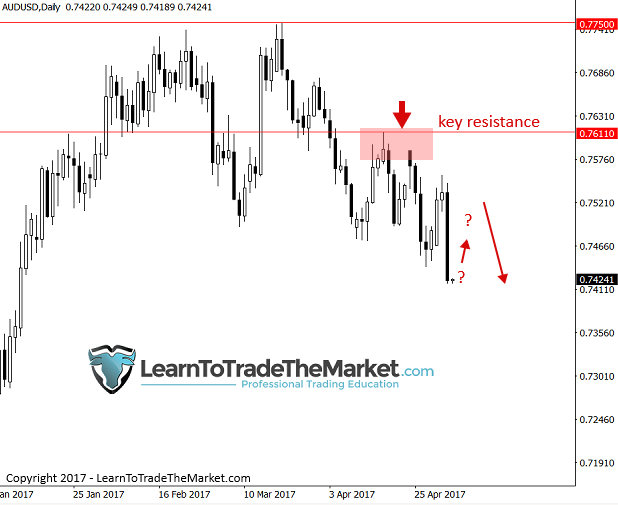 NZDUSD – Kiwi/dollar remains bearish
The NZDUSD has also been quite weak lately, selling off from key resistance up near 0.7060 last week and remaining subdued so far this week. This chart is clearly trending lower and we can watch for any temporary pull backs to the upside in order to get short and rejoin the downtrend. Whilst prices are contained under 0.7060 we are looking for price action sell signals.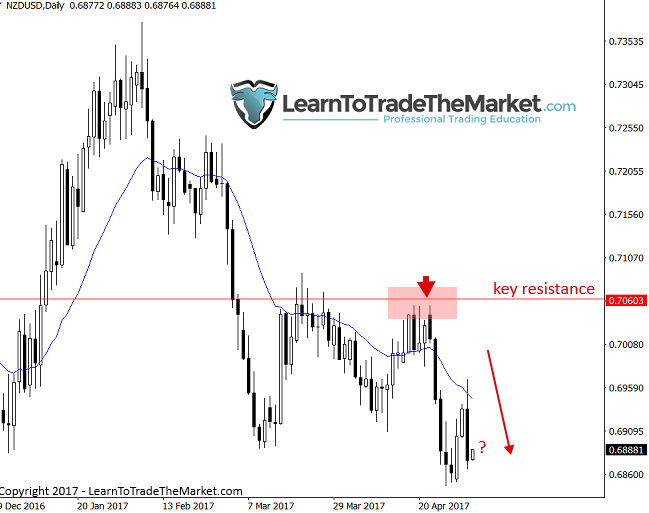 Want More Trade Setups Ideas & Analysis? In the members' daily trade setups newsletter, we discuss potential trade setups and provide detailed chart analysis on Currency Pairs, Commodities, Stock Indices and more. For more information click here.
Easter Life-Time Membership Special: Until April 30th, Save 35% Off
Nial Fuller's Professional Forex Trading Course, Daily Trade Setups Newsletter & Live Trading Forum - 
Click Here.