Trading Setups / Chart in Focus:
XAUUSD
The Spot Gold market finally found some resistance today after pushing up to a high of about $1747.00 and then reversing sharply to end the day with a loss over yesterday at $1730.00. We can see a fakey strategy with pin bar formed today as everyone tried to buy the break higher thinking the uptrend would continue higher in the linear fashion it's been moving in, only to have the bigger market players push the market lower. If today's counter-trend setup comes off, we could see a retrace lower, perhaps into the key support around $1700.00, at which point we would look for price action buy signals to rejoin the uptrend.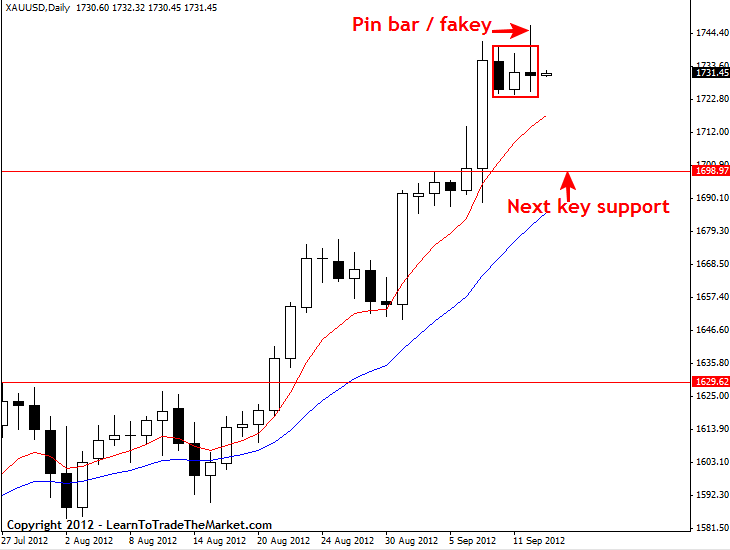 Check out my latest trading lesson: How To Trade Trends In Forex – A Complete Guide
————————————————————————————————————————————————————————–
September Special Promotion- This month I'm offering a Special Discount on Lifetime membership to my Forex Course, Live Trade Setups Forum, Daily Trade Setups Newsletter, Email support line, and more. For more info visit the Forex Course Page Here.
————————————————————————————————————————————————————————–
Forex Commentary:
In the currency markets today, the euro gained more ground on the U.S. dollar on the back of a German court ruling that supported the passing of Europe's permanent bailout fund. The EURUSD moved up to $1.2898 from $1.2854 yesterday.
The Australian dollar gained ground on the greenback as well, moving to a three-week high on the back of speculation about more stimulus from the U.S. Fed bank as well as positive news about China's economy.
The U.S. dollar gained modestly on the Japanese yen and Canadian dollar but was lower against the other majors today.
Other Markets:
In the U.S. markets today, stocks gained modest ground on the back of positive news from Germany about the euro-zone rescue fund as well as speculation that the Federal Reserve will pass another round of economic stimulus soon.
The Dow gained 9.99 points, or 0.08%, the S&P 500 added 3 points or 0.2%, and the Nasdaq gained 9.78 points, or 0.3%.
Upcoming important economic announcements (New York time): 09/13/2012
3:30am EST: Switzerland – Libor Rate
3:30am EST: Switzerland – SNB Monetary Policy Assessment
8:30am EST: United States – PPI m/m
8:30am EST: Unemployment Claims
12:30pm EST: United States – FOMC Statement
2:00pm EST: United States – FOMC Economic Projections
2:15pm EST: United States – FOMC Press Conference