Easter Life-Time Membership Special: Until April 30th, Save 35% Off
Nial Fuller's Professional Forex Trading Course, Daily Trade Setups Newsletter & Live Trading Forum - 
Click Here.
Note: We Use 'New York Close Charts' – Get Our Preferred Charts & Trading Platform Here
Gold – Gold surges higher, looking for pull back to buy
As we discussed in our weekly market analysis this week, we are looking to be a buyer of Gold, ideally on a small pull back in price. However, in light of the surge higher today and the close above the high of last week's bearish tailed pin bar, we are moving up our support / potential buy zone to around 1240.00 – 1220.00 support area or even the 21-day ema. Traders can look for weakness / pull backs to the aforementioned support levels to get long (ideally on a buy signal on the 1hr, 4hr or daily chart but blind entries are also something to consider for more experienced traders) and trade in-line with the uptrend from value. Also, note the key support zone down near 1180.00 – 1200.00; we will remain bullish / looking to buy whilst price is trading above that area.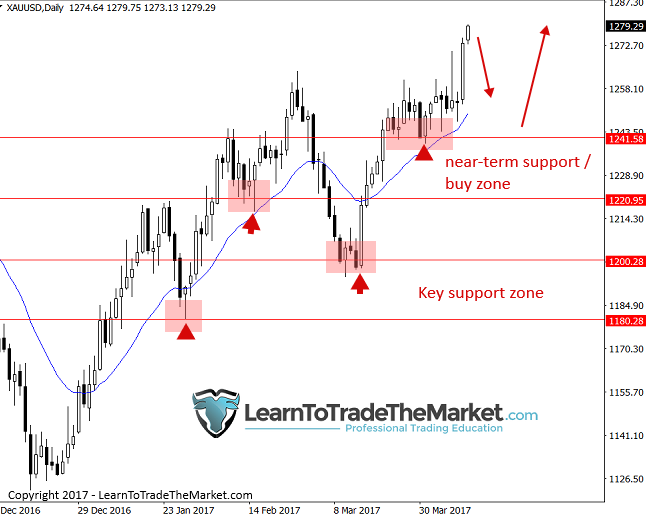 Want More Trade Setups Analysis? In the members' daily trade setups newsletter, we discuss potential trade setups and provide detailed chart analysis on Currency Pairs, Commodities, Stock Indices and more. For more information click here.
Easter Life-Time Membership Special: Until April 30th, Save 35% Off
Nial Fuller's Professional Forex Trading Course, Daily Trade Setups Newsletter & Live Trading Forum - 
Click Here.