Trading Setups / Chart in Focus:
Gold – Gold market falls significantly lower

The spot Gold market fell dramatically lower today and broke right through that $1,335.00 – $1,320.00 support area that we discussed in Tuesday's commentary. In our members' commentary and trading forum recently, we've been discussing the possibility for a large sell-off to take place in the Gold market given the double bearish pin bars that formed on the weekly chart recently and the weakening price action on the daily chart. Many of our members were still short today from the fakey signal that we discussed back in our June 10th commentary, showing the power of patience and 'set and forget trading'. From here, traders can continue watching for price action sell signals from resistance on any retrace higher in order to trade in-line with the downtrend.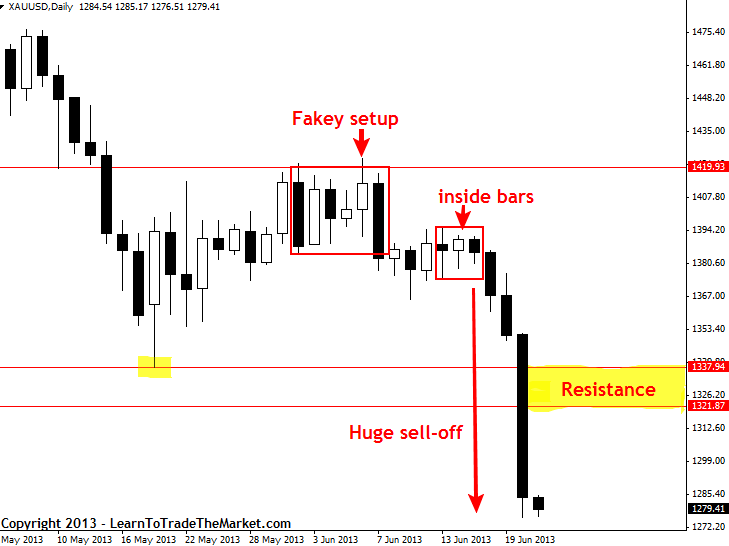 NZDUSD – Kiwi/dollar continues losing ground
The NZDUSD continued losing ground today and broke down past the support at 0.7760, closing the day just under that level. Note the market has lost significant ground since we first discussed the 4 hour fakey sell signal back in our June 14th commentary, showing the power of trading in-line with the daily chart trend from key levels. The downtrend is still clearly in control here and traders can look for price action sell signals to trade in-line with the trend on any rotations back up to resistance in the 8 / 21 day EMA resistance layer.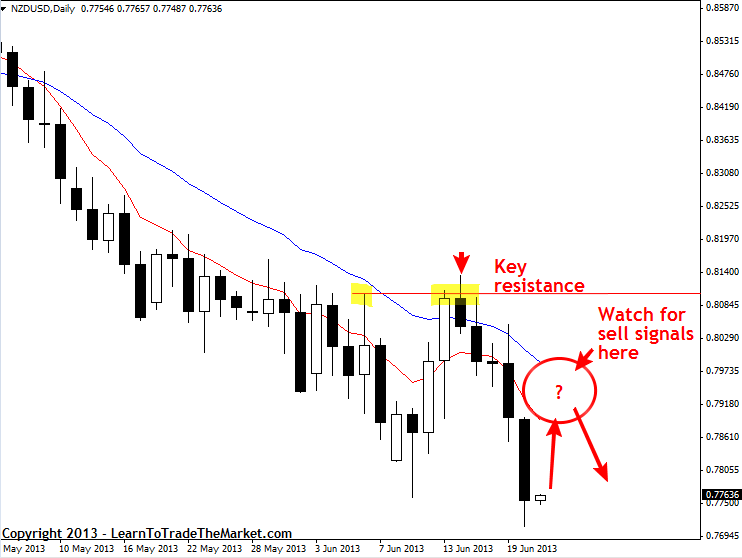 Want more commentary and trade ideas?– If you would like to receive more market commentary and trade setups, I publish a daily newsletter for members which includes more charts and analysis covering Forex, Indices and Commodities: Click Here
Check out my latest trading lesson: Trading Is a Game of Anticipation, Not Reaction
————————————————————————————————————————————————————————–
EOFY June Special Promotion: This month, I am offering a very special discount on lifetime access to my price action trading courses, members daily newsletter, trade setups forum, email support line & more. For more information Click Here.
————————————————————————————————————————————————————————–
Forex Commentary:
In the currency markets today, the U.S. dollar gained significant strength against the other majors again. The greenback pushed up to a two-week high against most of the other majors on the back of news that the Federal Reserve will begin to withdrawal its stimulus program this year if the U.S. economy continues to improve.
The greenback was up around 1 percent against the Japanese yen and gained about 0.6 percent on the euro. The Australian dollar hit a 33-month low versus the U.S. dollar today as data showed that China's economy continues to slow. The New Zealand dollar was down about 1.8 percent against the greenback today.
Other Markets:
In the U.S. markets today, stocks sold-off and the S&P 500 posted its biggest daily loss since November 11, 2011 as investors grew increasingly concerned over the Federal Reserve's plans to start scaling back its stimulus program later this year.
The Dow dropped 353.87 points, or 2.34 percent, the S&P 500 lost 40.74 points, or 2.50 percent, and the Nasdaq lost 78.57 points, or 2.27 percent.
Upcoming important economic announcements (New York time): 6/21/2013
2:35am EST: Japan – BOJ Gov Kuroda Speaks
8:30am EST: Canada – Core CPI m/m
8:30am EST: Canada – Core Retail Sales m/m
SIGN UP FOR FREE!
Get Free Trade Setups & Videos