Trading Setups / Chart in Focus:

GBPUSD – Sterling/dollar pin bar buy signal from key support
In recent commentaries we've discussed the potential for the GBPUSD to move into the key weekly support near 1.5270 – 1.5230 and form a daily chart pin bar reversal buy signal from there. Today, we can see the market has formed that signal and it could lead to a potential move back to resistance near 1.5390 or possibly beyond that to the 1.5625 area. If you look at the weekly chart of this market, it has bounced from this key support level the last few times it's hit it, so clearly it's a key chart level. There are basically three ways to enter this pin bar setup; at market ( a little more aggressive), on a buy stop just above the high, or if you're more conservative you could wait for a small decline into the 1.5220- 1.5180 region, (that's the 50% tweaked pin bar entry, one of the entry styles for this setup we teach our students).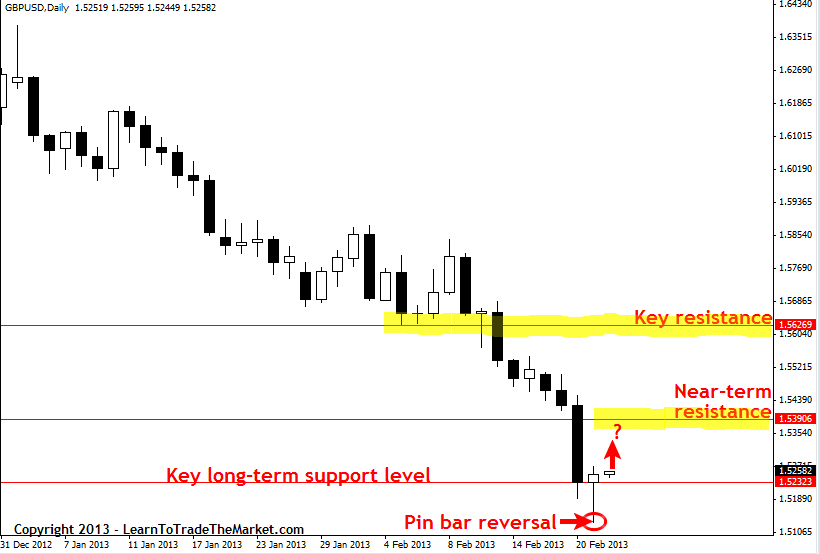 Check out my latest trading lessons:
• How To Become A 'Master' Of Your Trading Strategy
• How To Trade Like The 'Market Wizards'
————————————————————————————————————————————————————————–
February Special Promotion: This month I'm offering a Special Discount on Lifetime Membership to my Forex Courses, Live Trade Setups Forum, Daily Trade Setups Newsletter, Email support line & more. For more information Click Here.
————————————————————————————————————————————————————————–

Forex Commentary:
In the currency markets today, the euro dropped to a six-week low against the U.S. dollar on the back of weak euro-zone economic data.
The dollar index moved up 0.4 percent on the day, hitting its highest live since early September of last year. The dollar index measures the strength of the U.S. dollar against a basket of other major currencies.

Other Markets:
In the U.S. markets today, stocks lost significant ground again on the back of worries over the strength of the U.S. and euro-zone economies.
The Dow lost 46.92 points, or 0.34 percent, the S&P 500 dropped 9.53 points, or 0.63 percent, and the Nasdaq lost 32.92 points, or 1.04 percent.
Upcoming important economic announcements (New York time): 2/22/2013
4:00am EST: Euro-zone – German Ifo Business Climate
8:30am EST: Canada – Core CPI m/m
8:30am EST: Canada – Core Retail Sales m/m