Forex Commentary:
The euro climbed against the dollar Thursday as an inflation reading in Europe bolstered investor expectations that the European Central Bank will raise interest rates next week.
In other trading Thursday in New York, the British pound fell to $1.6025 from $1.6069 late Wednesday. The dollar rose to 83.11 Japanese yen from 82.89 yen, and rose marginally against the Swiss franc. The U.S. dollar closed basically unchanged against the Canadian dollar and Australian dollar.
Investors are awaiting Friday's unemployment report to see whether the economy added jobs in March. Economists forecast that employers added a net total of 185,000 jobs during the month.
Trading Setups / Chart in Focus:
EURUSD
The EURUSD inside-pin bar setup that we discussed in yesterday's commentary got triggered to the upside today, however price did pullback a bit into the New York close, but overall we are still seeing the potential for a re-test of resistance near 1.4280 in the near-term.
Note how the inside-pin bar setup formed just above the 21 day EMA, showing rejection of the 1.4030 support area and in-line with the broader up-trend, adding confluence to the setup.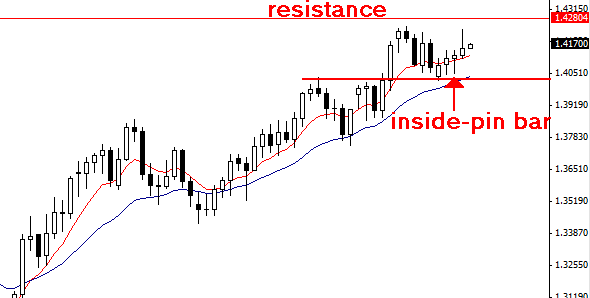 For a more in-depth analysis of the major forex currency pairs and price action analysis, please check out my forex trading course.

Other Markets:
On Wall Street today stocks ended the quarter on a quiet note as investors looked ahead to Friday's U.S. jobs report to provide a catalyst for continued growth.
The Dow lost 30.88 points, or 0.25 percent, the S&P 500 dropped 2.43 points, or 0.18 percent, and the Nasdaq gained 4.28 points, or 0.15 percent.

Upcoming important economic announcements: 4/1/11
3:15am EST: Switzerland – Retail Sales y/y
4:30am EST: Britain – Manufacturing PMI
8:30am EST: United States – Non-Farm Employment Change
8:30am EST: United States – Unemployment Rate
10:00am EST: United States – ISM Manufacturing PMI