Trading Setups / Chart in Focus:
EURUSD
The EURUSD fell significantly lower today after finding resistance at the 8 day EMA. Price is now once again hovering just above the key support near 1.2640 – 1.2620, if we move and close below that level we will probably see a large move lower as support below this level is scarce until about 1.1900. Traders can still look to sell this market on rotations higher into resistance on the intra-day or daily charts, pending price action confirmation.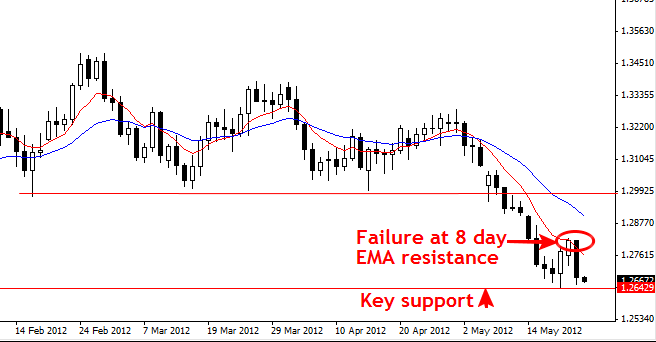 Check out my latest trading lesson: How To Increase The Winning Probability Of Your Forex Trades
May Special Promotion – This month I'm offering a Special Discount on Lifetime membership to my Forex Course, Live Trade Setups Forum, Daily Trade Setups Newsletter, Email support line, and more. For more info visit the Forex Course Page Here.
Forex Commentary:
In the currency markets today, the euro gave up 1 percent to the U.S. dollar, one day before a key meeting of euro-zone leaders to discuss the euro-zone debt crisis as fears grow that Greece will have to drop the euro.
The Japanese yen lost modest ground to the British pound and Canadian dollar and more significant ground to the greenback today as the greenback gained across the board; however the yen gained against the other majors today.
Other Markets:
In the U.S. markets today, stocks gave up gains into the New York close as hopes faded for an improvement in the euro-zone debt crisis.
The Dow lost 1.67 points, or 0.01 percent, the S&P 500 added 0.64 points, or 0.05 percent, and the Nasdaq lost 8.13 points, or 0.29 percent.
Upcoming important economic announcements (New York time): 5/23/2012
Tentative: Japan – BOJ Press Conference
4:30am EST: Britain – MPC Meeting Minutes
4:30am EST: Britain – Retail Sales m/m
All Day: Euro-zone – EU Economic Summit
8:30am EST: Canada – Core Retail Sales m/m
10:00am EST: United States – New Home Sales
10:00pm EST: New Zealand – Annual Budget Release
10:30pm EST: China – HSBC Flash Manufacturing PMI