Trading Setups / Chart in Focus:
EURUSD
The EURUSD moved higher today, closing just above the 8 day EMA resistance level. We see this current move higher as a counter-trend retrace and traders can watch for price action sell signals from resistance to rejoin the downtrend. Key resistance comes in near the 21 day EMA and the previous breakdown level near 1.2625 – 1.2640.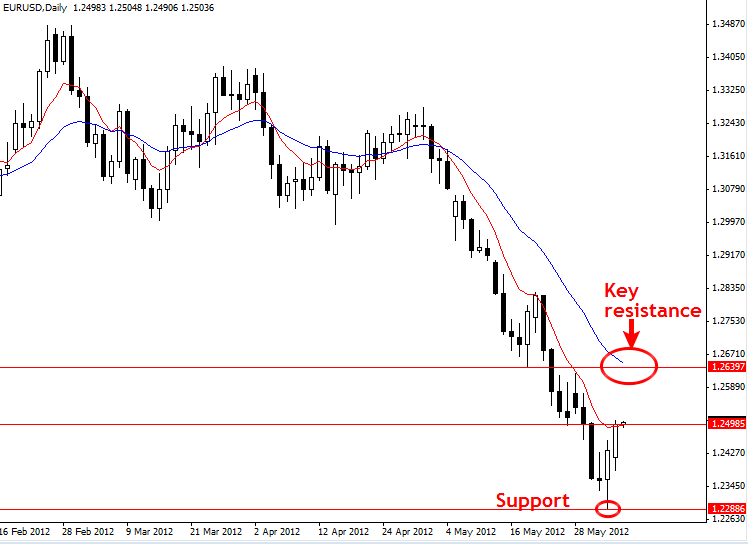 Check out my latest trading lesson: Pyramiding – A Money Management Strategy To Increase Profits
————————————————————————————————————————————————————————–
EOFY June Special Promotion – This month I'm offering a Special Discount on Lifetime membership to my Forex Course, Live Trade Setups Forum, Daily Trade Setups Newsletter, Email support line, and more. For more info visit the Forex Course Page Here.
————————————————————————————————————————————————————————–

Forex Commentary:
In the currency markets today, the EURUSD gained ground on the back of hopes that euro-zone authorities will work to employ tighter fiscal discipline. However, the trend remains down and many investors and traders remain bearish on the euro and see this as a retrace within the broader downtrend.
The U.S. dollar was higher against the Japanese yen today, gaining about 0.4 percent.
Against the other majors, the greenback was mostly lower.

Other Markets:
In the U.S. markets today, stocks ended mostly lower in what was a choppy trading session on the back of a bleaker view of the U.S. economy.
The Dow lost 17.11 points, or 0.1%, the S&P 500 gained 0.14 of a point, or 0.01%, and the Nasdaq added 12.53 points, or 0.5%.
Upcoming important economic announcements (New York time): 6/5/2012
12:30am EST: Australia – Cash Rate
12:30am EST: Australia – RBA Rate Statement
8:30am EST: Canada – Building Permits m/m
9:00am EST: Canada – BOC Rate Statement
9:00am EST: Canada – Overnight Rate
10:00am EST: United States – ISM Non-Manufacturing PMI
Tentative: All – G7 Meetings
9:30pm EST: Australia – GDP q/q