Trading Setups / Chart in Focus:

EURUSD

The EURUSD pushed higher today as buying interest continued and the pair found support off the 8 day EMA. We can see a pin bar setup from July 18th that clued traders in to this recent move higher. Watch the resistance zone marked in the chart below, from about 1.4575 to 1.4700.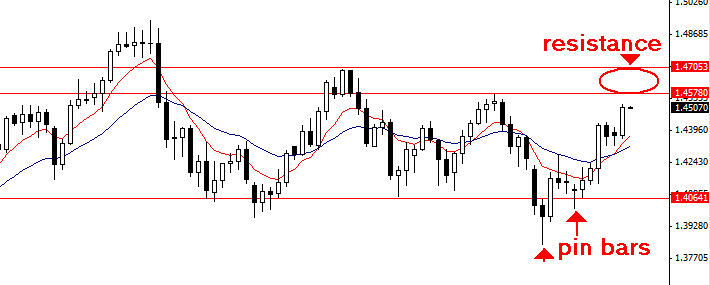 AUDUSD
The AUDUSD pushed substantially higher today. We can see that yesterday the pair found support off the previous trading range high / current support level near 1.0790 and has shot higher since. Watch resistance near 1.1010, this level could prove important to watch for price action setups.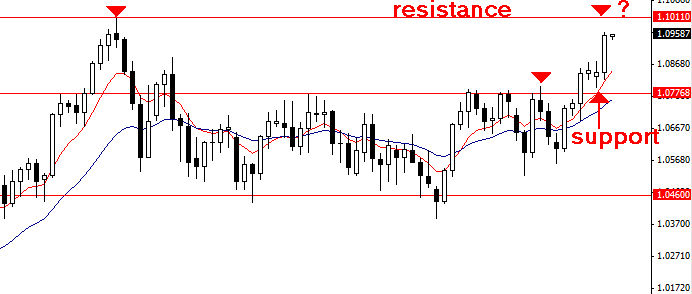 Check out this cool new Forex trading lesson: Are You Addicted To Forex Trading?…

Important Note: This Month I Am Offering A Special Discount On Lifetime Access To My Price Action Forex Trading Course & Members Trading Community. You Can Check Out More Information On My Forex Trading Course Here.
Forex Commentary:
The dollar dropped broadly on Tuesday and investors expected it to continue to depreciate as long as U.S. lawmakers fail to reach a compromise on a budget plan to prevent the country from defaulting on its debt.
The dollar hit a record low against the Swiss franc, a traditional safe haven, falling below a key option barrier at 0.80 franc. It also dropped to a four-month trough versus the yen and a three week low versus the euro.
The euro hit a session high of $1.4525, its strongest July 5. It was last at $1.4518, up 1 percent.
Other Markets:
On Wall Street today stocks lost ground for a second day in a row as debt talks held sentiment down. Light volume showed investors were reluctant to make large bets even in the face of another round of solid earnings.
The Dow lost 91.50 points, or 0.73 percent, the S&P 500 lost 5.49 points, or 0.41 percent, and the Nasdaq lost 2.84 points, or 0.10 percent.
Upcoming important economic announcements: 7/27/2011
5:30am EST: Switzerland – KOF Economic Barometer
8:30am EST: United States – Core Durable Goods Orders m/m
5:00pm EST: New Zealand – Official Cash Rate
5:00pm EST: New Zealand – RBNZ Rate Statement