Trading Setups / Chart in Focus:
AUDUSD
The AUDUSD surged higher today and ended the day just under the key resistance level through 1.0445. If price can continue pushing higher in the next 24 hours, we could see a continuation of the recent surge higher and a move above 1.0445 resistance. However, we could see a rotation lower from this key resistance, if that happens we will watch closely for price action buy setups from support. The closest key support is seen near 1.0330.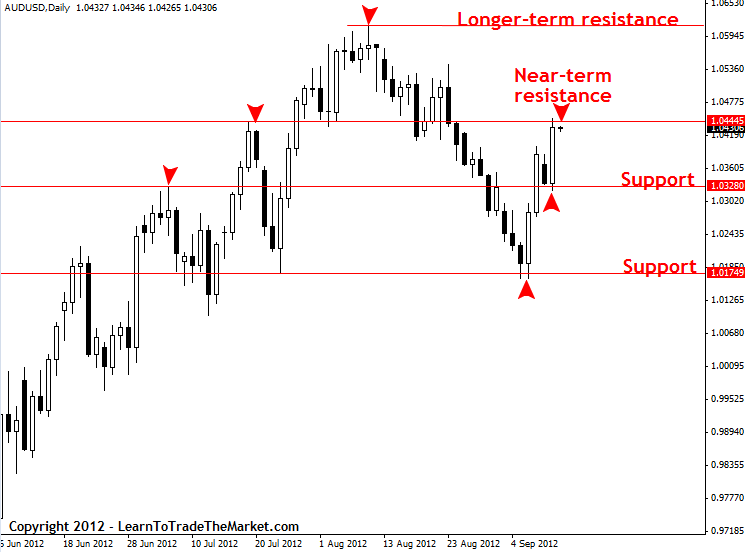 Check out my latest trading lesson: How To Trade Trends In Forex – A Complete Guide
————————————————————————————————————————————————————————–
September Special Promotion- This month I'm offering a Special Discount on Lifetime membership to my Forex Course, Live Trade Setups Forum, Daily Trade Setups Newsletter, Email support line, and more. For more info visit the Forex Course Page Here.
————————————————————————————————————————————————————————–
Forex Commentary:
In the currency markets today, the euro surged to four-month highs versus the U.S. dollar as traders anticipate another round of economic stimulus from the Federal Reserve later this week.
The U.S. dollar lost ground against all the other majors today as the anticipation of more economic stimulus out of the U.S. is working to weaken the greenback.
Other Markets:
In the U.S. markets today, the Dow moved to its highest level in almost five years ahead of important economic news out of Germany and the U.S. that could add more fuel to the recent rally.
The Dow added 69.07 points, or 0.52 percent, the S&P 500 added 4.48 points, or 0.31 percent, and the Nasdaq added 0.50 point, or 0.02 percent.
Upcoming important economic announcements (New York time): 09/12/2012
Tentative: Euro-zone – German Constitutional Court Ruling
All Day: Euro-zone – Dutch Parliamentary Election
4:30am EST: Britain – Claimant Count Change
5:00pm EST: New Zealand – Official Cash Rate
5:00pm EST: New Zealand – RBNZ Press Conference
5:00pm EST: New Zealand – RBNZ Rate Statement